STONE COATED METAL ROOFING SHEETS:
Colour Stone Coated metal Roofing sheets is a new technology with a combination of Aluminum, Zinc, steel core and stone coating – known as Galvalume steel (Al-Zn). The before and after protective film treatment, coupled with high precision pressure – shaped gravel ensure the roof to be the best roofing material, Coated with an alloy compossed of Al – 55%, Zn- 43.4%, Si – 1.6%, with Non-toxic acrylic adhesive and natural stone. Colour stone coated metal Roof provides the advantages of long time strength, durability, and beauty.
Coating layers of Colour Stone Coated Steel Roofing Tile:
The Roofing sheet is made up of eight coating layers which includes:
Clear acrylic over-glaze protective coating
Roofing Stone Coating
Adhesive basecoat
Protective surface coating
Aluminum/Zinc coating
Commercial grade steel core
Aluminum/Zinc coating
Protective surface coating
The Advantages of Colour Stone Coated Metal Roof
Excellent Durability: The high strength steel plate as the basic material, from top to bottom, the multi-layer protective treatment ensures excellent corrosion resistance and durability.
Light, Versatility and Economy: Weight of colour stone coated metal roof is only 1/6 weight of an ordinary cement tile, it is very convenient for removal, construction and usage, which is substantially economical in construction time and costs.
A Solid Roof Structure: Metal roof tile of waterproof, windproof, and solid nail design provides the features of effective anti-lightening, against strong wings, heavy rain, hail, fire-resistent and earthquake-resistant.
Types
We have three main types which are romance, executive and aspirant.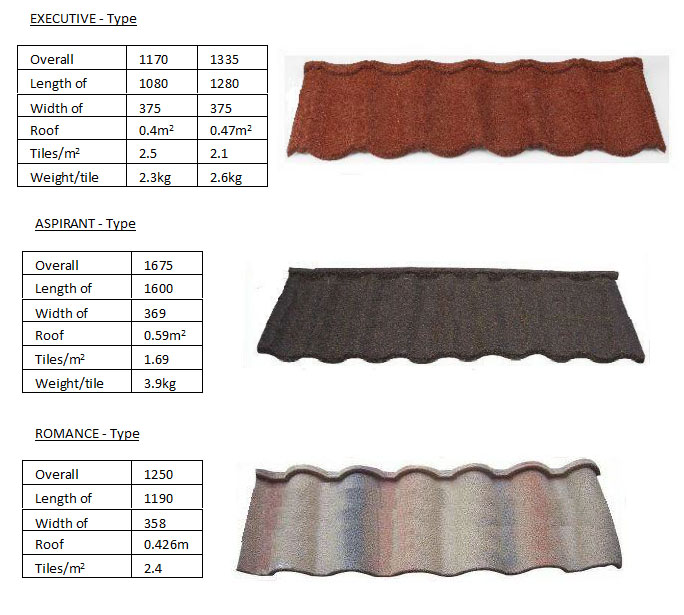 Colourful Stone
Coated metal roofing colour range: Below are the available colours we have for supply on request.